HOME
Return to Females
V-rated under SV Judge Klause Gothe
1st Place SG-1 SV Judge Friedrich Kirchoff [12-18 month class 8 entries]
1st Place SG-1 SV Judge Hans-Joachim Dux [12-18 month class 9 entries]
SG-4 SV Judge Siegbert Otte-Krone [18-24 month class 14 entries]

V-Joan v. Drantumer Land
SchH I, KKL-I, "a" normal HD:ZW 89
OFA Good GS-57396G34F-T
GS-EL10176-T
(DNA)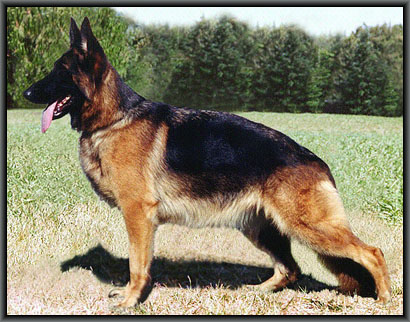 [Photo taken in whelp]
11 January, 1997 - 14 July, 2010
Joan

VA-Shanto's Xano, SchH 3, KKL-I "a" normal

V-1 Flick v. Arlett, SchH 3, KKL-I "a" normal

Romy v. Huize Hintdonk, VH1
"a" normal

V-Natali v. Burg Bismark, SchH 1, KKL-Ia

V-1 Nutz v. Mönchberg, SchH 3, KKL-I "a" normal (BSZS)

V-Florence v. Burg Bismark,
SchH 2, KKL-Ia (LGZS)
---
Breed Survey:
Very typey and expressive, large, medium-strong, dry, firm female. High withers, good line and good croup. Correct angulation, balanced chest proportions, true front. True-moving, powerful, fluid, ground-covering gait. Pronounced drive, self-confidence, and ability to withstand pressure; dog releases on command.
Expressively typey with appealing body structure.
Körmeister Bernhard Norda
Some of Joan's Titled Progeny
Clicking the links below will open in a new browser window.
V-1 Jago v. Valkyre SchH 3, KKL-1, OFA
Julchen v. Valkyre SchH 1 OFA
Leika v. Valkyre SchH 1, OFA
Lana v. Valkyre Certified Wilderness, Avalanche & Cadaver
Obi-Wan v. Valkyre Wilderness, Avalanche, Type 1 & Type 2 Cadaver Certified
Orissa v. Valkyre Wilderness & Cadaver Certified
Photo property of Valkyre Kennel
HOME I MALES I FEMALES I LITTER INFORMATION I NEWS
ABOUT VALKYRE I TITLE HOLDERS I PUPPY GALLERY
© 1994-2010 Zwinger vom Valkyre ALL RIGHTS RESERVED
No graphics, text or design may be reproduced or copied from this site without written consent from TSanders