16 Certified Search & Rescue Teams (of those, 6 also hold an Avalanche certification)
4 Certified Police Service Dogs (the most recent to certify in 2016)
A Diabetic Alert Dog
A Hearing Assistance Dog
2016 TOP Obedience GSDs in Open A and ranking 4th Place "Vista"

2017 Agility Invitational for German Shepherds "(MACH)Vista" ranking 5th

AKC Masters Container & Masters Interior "I'Leighton"


In Print: Books

The Ultimate German Shepherd Dog, by Sheila Rankin
Organization & Management of the K9 Therapy Dog Group, by Jacqueline P. Root
The Long Term Missing: Hope and Help for Families, by Sylvia Pettem


In Print: Calendars

2002 Willow Creek Press, Just German Shepherds
2005 Bridgeport Equipment photo contest calendar
2011 American German Shepherd Rescue Assoc, Inc.
2012 American German Shepherd Rescue Assoc, Inc.



~In 2018 we welcomed our 6th generation to carry the Valkyre name~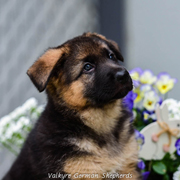 Please refer to Title Holder page for a complete list of all the accomplishments from the
dedicated, talented owners/trainers and their equally talented and hard working partner
VALKYRE German Shepherds, located just outside of Sacramento, California, was created out of my desire to consistently produce healthy, sound-minded, highly trainable dogs without compromising correct structure. Along with that is my commitment to Honest Representation, Fair Guarantees, and Ongoing Advice & Support.
My first litters, although excellent in temperament, did not have the overall health and longevity that I strive for. In the early 80's I found myself searching for the bloodlines that would fulfill all that I was looking for in the German Shepherd Dog. That search took me to many kennels both here and in Germany. It was in Germany that I found the bloodlines that would insure a high percentage of healthy, spirited, long-lived dogs that had the natural aptitude to fulfill their genetic potential. Having made close to 50 trips now has proven invaluable being able to see the dogs in person that we incorporate into our breeding program.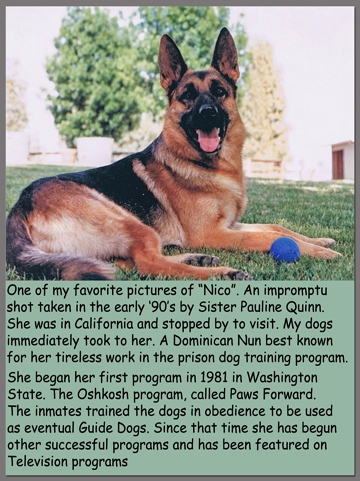 I have always approached the breeding of German Shepherds as a priviledge. Great responsibility comes with knowing, full well, the ability to influence further generations.
~~ To develop a line it takes patience, vision & knowledge of the Breed. Each breeding is carefully planned and researched to produce the utmost potential. ~~
Every dog used in our breeding program is certified and free of hip & elbow dysplasia and tested for DM. In addition, the parents have a conformation rating, Schutzhund titled and Breed Surveyed and/or from a working Search & Rescue dog or Police Service Dog.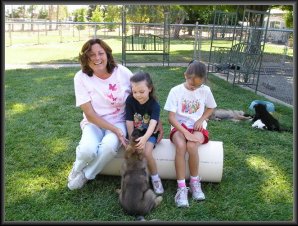 I choose to keep a limited number of breeding stock in order to provide excellent care for each. That usually means a wait for one of our pups. I firmly believe that the first several weeks of life are crucial in the proper development of puppies. Therefore we spend many hours handling them. They are exposed to different people, obstacles (as confidence builders), and gentle children.
All dogs and puppies get daily exercise in large grassy yards, and are afforded an environment enriched with stimulating objects and experiences. To ensure further proper development, our pups are placed where they will be family members and live in the home.
Proper nutrition is equally important at Valkyre. We feed a raw diet of Primal, Northwest Natural and SmallBatch frozen food.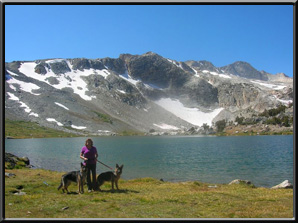 All dogs are kept in a clean environment and are groomed on a frequent basis. By the time our pups are placed in their new homes they are accustomed to brushing, toenail clipping, and baths.
Our litters are registered with the American Kennel Club. Before they leave our home they have been thoroughly examined by a Veterinarian, are microchipped, current on vaccinations, and test negative for parasites. All new owners are provided with a written health certification from the Veterinarian.
We do require that your veterinarian examines the new member of your family within the first 72 hours.
Yours in the breed,



Rebecca M. Rodgers
VALKYRE German Shepherds
Dedicated to Sound Minds, Correct Structure, Honest Representation,
Ongoing Advice & Support
Photos property of Valkyre Kennel
HOME I MALES I FEMALES I LITTER INFORMATION I NEWS
ABOUT US I TITLE HOLDERS I PUPPY GALLERY
© 1994-2022 Zwinger vom Valkyre ALL RIGHTS RESERVED
No graphics, text or design may be reproduced or copied from this site without written consent from TSanders