HOME
Return to Males
V-2 2001 NW Regional Conformation Championship SV Judge Albrecht Woerner
V-rated SV Judge Gunther Bauer
V-rated SV Judge Wolfgang Babilon
SG-1 (18-24 month class) SV Judge W. Scheld
SG (12-18 month class) Judge Johannes Grewe
V-Donner v. Valkyre
SchH 3, KKL-1, "a" normal HD-ZW:85
OFA GOOD GS-60117G29M-T
EL11811-T
(DNA)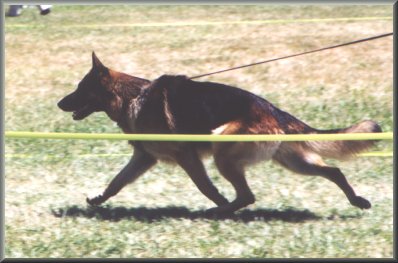 Whelped 26 May, 1998
Donner

Always Pronounced Courage

(USA) VA-Lenon du Val D'Anzin SchH 3, IP2 Brevet, KKL-I "a" normal (BSZS)

V-1 Eros v.d Luisenstrasse SchH 3, KKL-Ia, Lbz "a" (BSZS)

V-1 Gelinote du Val D'Anzin LOF Brevet "a" (HZS 95)

Ultra v. Valkyre SchH 2, KKL-I "a" normal

V-Nax v. Hasenborn SchH 3, FH, IP3, KKL-Ia, Lbz "a" normal

V-1 Dannie v. Lahnblick SchH I, KKL-Ia, Lbz "a" normal
Linebreeding:
Fina Badsee (5-5)
Uran Wildsteiger Land (5,5-5)
Quando Arminius (5-3,5)
Tell Grossen Sand (5-4)
Quana Arminius (4-)
Breed Survey:
II. On the highest edge of size restriction, medium strong, substantial, dry and firm with good expression and masculinity. High withers, good outline, good croup. Correct angulation, balanced chest proportions, nearly-correct front, stands wide. Although wide-moving in front, he shows fluid, outreaching gaits. Pronounced drive, self-confidence, and ability to withstand pressure; dog releases on command.

Special Qualities:
V. Typey overall appearance with appealing body-structure.
Körmeister: Bernhard Norda
[Translated by Bobbie Impellizzeri]
Photo courtesy of Julie Baldwin
HOME I MALES I FEMALES I LITTER INFORMATION I
NEWS I ABOUT US I TITLE HOLDERS I PUPPY GALLERY
© 1994-2015 Zwinger vom Valkyre ALL RIGHTS RESERVED
No graphics, text or design may be reproduced or copied from this site without written consent from TSanders