Home
Dedicated to:
Slider
Handler/Owner/Trainer Sallee Burns
At home in June Lake.
Search Dog Trapper & Slider
First snow!
---
Below is an excerpt from Slider's early days of training with his handler:

"He's doing fantastic work, but I'm still trying to convince him that this is not a "timed" event. He's like a little race horse."
"He's quite a prankster. That mind of his is always working. I don't see such a high level of curiosity in other dogs.".
"He just has to see what everyone has inside their cars...and when we get together with other handlers he often will take a flying leap to get in their cars and go through their stuff..."
---
Ready? Search!!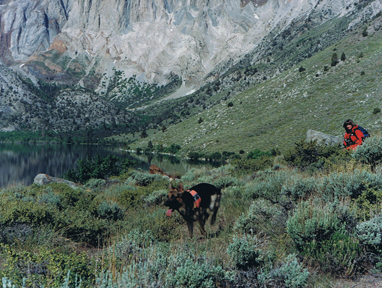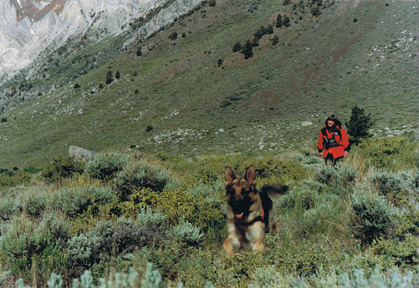 Carry You
When I brought you home, I carried you. I held you close and made a promise that day.
As I breathed in that sweet, soft, clean smell, I promised to carry you, and keep you safe and well.
I laughed and spoke so quietly to you I taught you your name. You showed me your heart And I showed you mine, as I carried you that day.
When I take you home, I'll carry you. I'll hold you close, as I promised that day.
I'll breathe in that old familiar smell, and keep my promise to keep you safe and well.
I'll cry as I speak so quietly to you.
I'll say your name. You'll show me your heart.
And I will lose mine, when I carry you, that day. by Walt Zientek
HOME I MALES I FEMALES I LITTER INFORMATION I NEWS
ABOUT US I TITLE HOLDERS I PUPPY GALLERY
© 1994-2015 Zwinger vom Valkyre ALL RIGHTS RESERVED
No graphics, text or design may be reproduced or copied from this site without written consent from TSanders