HOME
Return to Females
V-1 Jana vom Steffen Haus
SchH 2, KKL-I, Lbz "a" normal
OFA Good GS-31015G31F-T, EL1325-T
HD-ZW:85
1st Place 1990 USA SIEGER SHOW (6-9 mo. Class)
Landesgruppen Siegerin, 1994 NW Region (USA)
1st Place (6-9 mo. Class) & Reserve Winners Bitch (AKC)
V-2 9/29/91 Mayen-Eifelland, Germany Judge H. Oster (Class of 15)
V-4 10/13/91 Kombach, Germany Judge H. Henrici
SG-5 (JHKLH) 9/1/91 Germany Judge H. Thielen (Class of 21)
SG-3 9/16/90 Hofheim, Germany Judge A. Platz (Class of 13)
1st Place Veteran Class, 1995 (USA)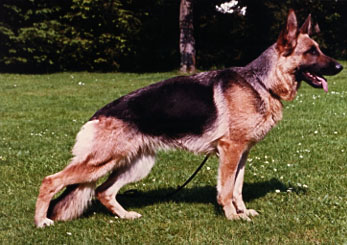 Handler Carsten Hönig
5 Sept, 1989 - 1 Feb, 2004
Jana

Always Pronounced Courage

VA-1 Fanto v. Hirschel SchH 3, KKL-I, Lbz "a" normal (BSZS)

* VA-Tell v. Großen Sand SchH 3, Lbz "a" F/normal (BSZS)

* V-Ica v. Haus Reiterland SchH 2, Lbz "a" F/normal

'86 Jugend Siegerin, German Sieger Show

V-1 Quinte v. d. Burg Reichenstein
SchH 2, "a" normal (BSZS)

*VA-1 Quando v. Arminius, SchH 3, FH, IP3, BHP2, Lbz "a" F/normal (BSZS)

*V-1 Illa v. d. hohen Erle, SchH 3, Lbz "a" F/normal
---
"After a successful show career, years of Therapy Dog work and her invaluable contributions to my goal as a breeder, Jana has earned her status as "Head Babysitter" for our future stars."

---
Breed Survey:
Large, medium-strong, markedly stretched, typey and expression, dry and tight, high withers, very good overline, well laid on croup. From a very good shoulderblade lay-on, the upper-arm could be somewhat longer. True front, prominent chest proportions, true moving in rear, narrow in front. Powerful, ground covering gait. Sound Character, pronounced Hardness, Courage and fighting drive. Dog releases on command.
LBZ June 25, 1993 Very good condition.
V:
Dry and tight Mother-type, on the upper borderline for size.
VI:
Use medium-sized males with faultless lay-on and length of upper-arm.
Jana is co-owned with Jane Steffenhagen.
Jana Progeny
Photo property of Valkyre Kennel
HOME I MALES I FEMALES I LITTER INFORMATION I NEWS
ABOUT US I TITLE HOLDERS I PUPPY GALLERY
© 1997-2007 Zwinger vom Valkyre ALL RIGHTS RESERVED
No graphics, text or design may be reproduced or copied from this site without written consent from TSanders