HOME Return to Females

V-Elba von Vierhundert Hertz
SchH I, KKL-I, Lbz "a" normal HD-ZW: 86
OFA Good GS-3658G24F-T
EL2841-T
(DNA)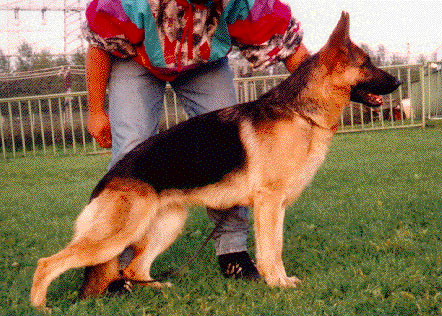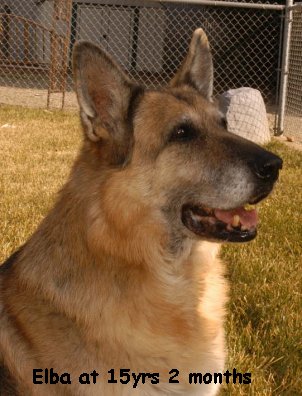 29 Dec, 1991 - 9 Apr, 2007
Elba

Score
98-90-92

(Always Pronounced
Courage)

V-1 Xanto v. Grauen, SchH 3, KKL-I, Lbz "a" F/normal

(BSZS)

* VA-1 Jeck v. Noricum, SchH 3, FH, Lbz "a" (BSZS)

* VA-Rena v. Grauen, SchH 3, Lbz "a" normal (BSZS)

V-1 Nora v. d. Seigerlandgrenze, SchH 1, KKL-I, Lbz "a" normal

*V-1 Dando a. Nordrheinland, SchH 3, FH, IP3, Lbz "a" (BSZS)

*V-Susi v. d. Vallendarer Höhe, SchH 1, Lbz "a"
---
"What can I say about my Elba? She has contributed so much to my breeding program. Strong,robust puppies with absolute correct structure that were eager-quick learners.

As a bonus, she has produced an extremely high percentage of OFA certified hips in all her litters."
---
Breed Survey:
Large, strong, good proportions, good head, high withers, good croup, very good topline, normal chest proportions. Good length and position of the upper arm, very good rear angulation, correct gaiting, far outreaching gait out of a firm back. Pronounced hardness, Courage and fighting drive.
LBZ April 21, 1995 Very good condition.
Photos property of Valkyre Kennel
HOME I MALES I FEMALES I LITTER INFORMATION I
NEWS I ABOUT US I TITLE HOLDERS I PUPPY GALLERY
© 1997-2008 Zwinger vom Valkyre ALL RIGHTS RESERVED
No graphics, text or design may be reproduced or copied from this site without written consent from TSanders